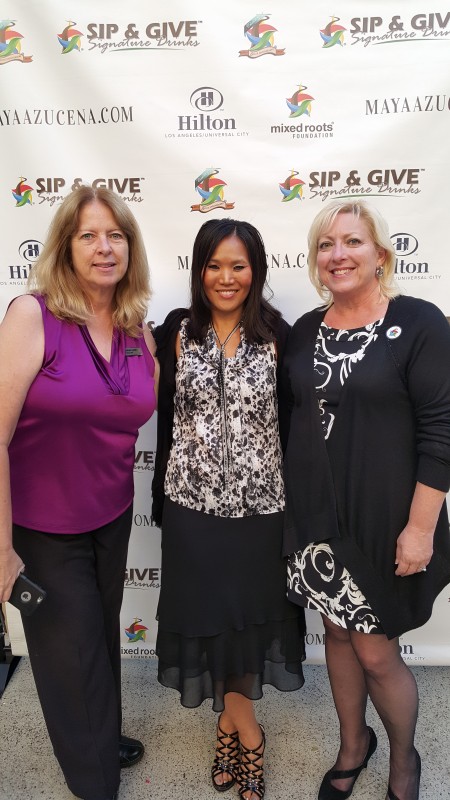 #FBF – #HAPPY FRIDAY, Everyone!! WE DID IT LAST NIGHT!!! We have officially launched The FIRST EVER signature SIP & GIVE Drinks debuting the #MixedRootiniand the #MixedRojito that will further benefit Mixed Roots Foundation and the #adoption and #fostercare community!!
#THANKYOU to all of the individuals including the#MixedRoots Board of Directors (Glenn Bowie, Jamie Young-Eke, and Bonnie Baruth-Ryder) and #MixedRoots Ambasadors (Helena Conley), Donors and sponsors of our Raffles; busineses and organizations that helped make all of this happen and a Bring a #Dream for the past 3 years become a #Reality and a Make Our Official launch a Smashing #SUCCESS: #TomCook, GM of Hilton Los Angeles / Universal City and his amazing staff, #Robyn, Our Rockstar Bartender who helped create the drinks, Bonnie Baruth-Ryder who has also been working at the#HiltonUniversal for over 20 Years, Carole Lowe, Marketing Coordinator for the Hilton Los Angeles / Universal City and all of their onsite staff that made our event run so smoothly;
Of course, Our Headliner/Dear Friend, Maya Azucena who rocked the stage with her original music – THANK YOU again for being part of this special event and Our special VIP guests who actually performed in #Minnesota for Mixed Roots Foundation's #MNTwins #PurpleTribute event: David Alexander and Timotha Lanae of #TheLordzUv – It was great to reunite in LA – You guys are NEXT…
A BIG Shout out to Our behind the scenes teams: Michael Zokai -Founder & CEO of Printing Depot Inc. along with his awesome team – #Ali, #Jesse, #Miguel, #Pao, and James Prokop…THANK YOU for putting up with us to get all of our banners, flyers and most importantly our #TableTents printed in time, so they can be displayed on every table at the Hilton Los Angeles / Universal City for people to check out and participate in the #SIPANDGIVE Challenge…
Our Community Partner, Vista Del Mar Child and Family Services who lent #Saba to us and assisted with registration at the event…and Our Multimedia Team, Louie,#HannesLuth, and Matthew Wayne Hardesty of Uptica who took great photos, interviews and set up our website and made us all look REAL GOOD…
And Last but certainly not least – You Can't forget THE FAMOUS #MIXEDROOTSCHIPS – A BIG THANK YOU to#JansFoods for their continuous support of Mixed Roots Foundation for donating their very healthy #MixedRootsChips at all of our signature events – They are HIT all over the country!!!
AND FINALLY, THANK YOU TO ALL OF YOU for your continued support and participation…Please Go Visit the Hilton Los Angeles / Universal City and Try our signature SIP & GIVE Drinks & #SPREADTHEWORD…and the #HiltonUniversal will #DONATE $1 for each signature drink that is sold to #MixedRootsFoundation – What a Great Deal and for such a Great Cause!!!
In the meantime, PLEASE STAY TUNED as We EXPAND to other venues and Host more Launch events…Until then VISIT SIPANDGIVEDRINKS.ORG to #STAYINTHEMIX…Have wonderful weekend – #PEACEOUT, #WEOUT!!!