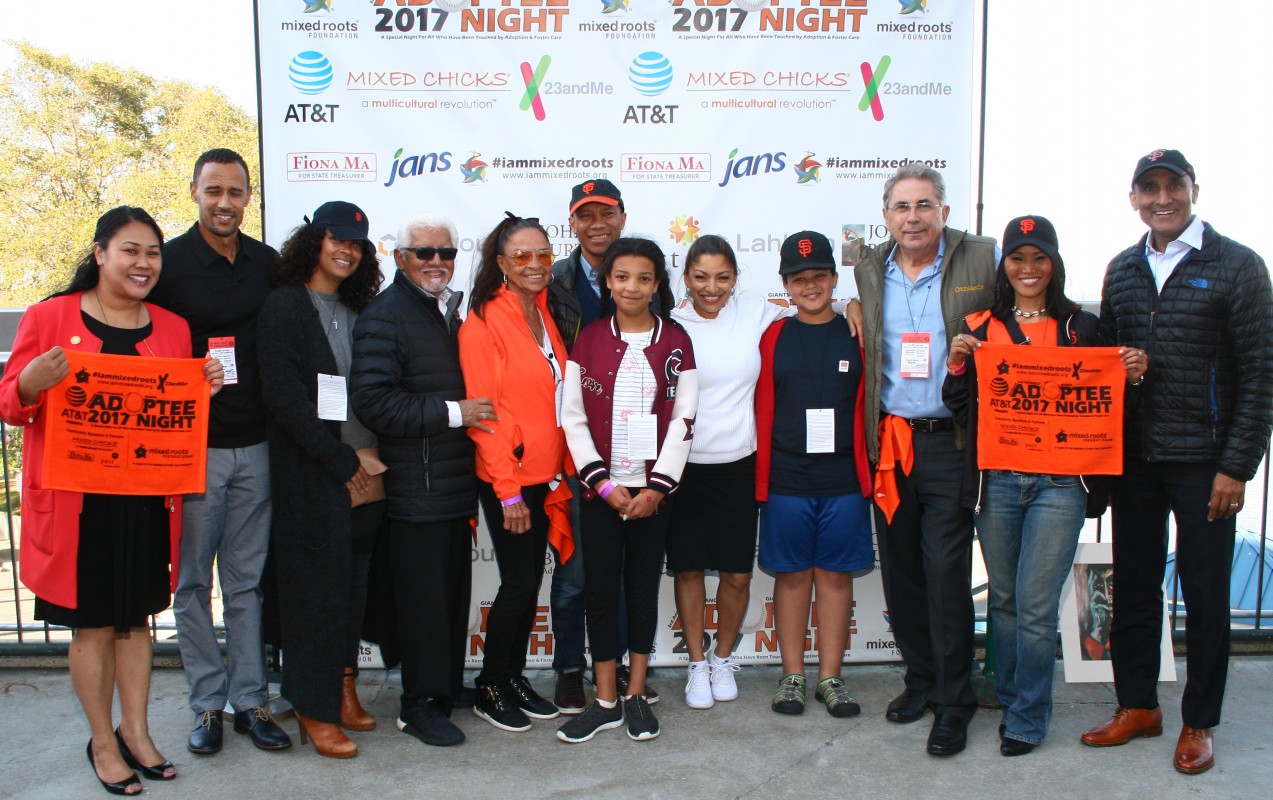 #FBF: #AGIANTSUCCESS – We can't believe it, but it was just a few days ago we were on the field at AT&T Park celebrating our #3rdAnnual San Francisco Giants #AdopteeNight where we sent over 600 #mixed, #adopted, #fostercare kids and their families to their first #baseball game and featured our special guests this year to kick off our I AM MIXED ROOTS campaign in #SF: Genevieve Villafranca Jopanda representing Fiona Ma of the #CAStateBoardofEqualization; Kim Etheredge and Brad Kaaya Sr. of the Mixed Chicks; AT&T #President of #CA, Ken McNeely and his beautiful #MixedRoots Family – Husband, Inder Dhillon and adopted son and daughter, Kabir McNeely and #Meera; and the legendary #SFBayArea's own Pete Escovedo and his lovely wife, #Juanita; and our valued #communitypartner that serves #mixed, #adopted children of color and their families, Pact, An Adoption Alliance – All exemplifying that we all have #MixedRoots!!
We are so honored to partner with the San Francisco Giants every year where we hosted our inaugural #AdopteeNight in 2012 – Cameron Lochte – You rock!! And to have the support of over 15 businesses and organizations as well as several individuals in the greater community this year to make this special event possible: Our Board, Erwin Yudianto of JANS Mixed Roots Chips, Zina Escovedo of Freedom From 4 Walls, First Place For Youth, Roger Royse of Royse Law Firm, Mixed Remixed, Erik Moreno of Lahlouh, Inc., 23andMe, #Execushield, Printing Depot Inc., Alvin Louie of the #SanFranciscoUnifiedLionsClub #District4C4, Tanya Buzalsky, Susan Naomi Delott and #RainerGembalczyk, Madeline Gembalczyk, Beth Hall of Pact, An Adoption Alliance, and #AmyLemly and #JohnBurton of John Burton Advocates for Youth
#ThankYou again for all of your continued support and participation from #GrassRootstoMixedRoots!!! We look forward to doing it all over again next year – Please stay tuned…Until then Have a great rest of the summer – #GOGIANTS!!!
Videographer: Ajakari Porter-Robinson
Photographer: Rony Armas