Inaugural Alex Matthew Pettman Memorial Scholarship 2022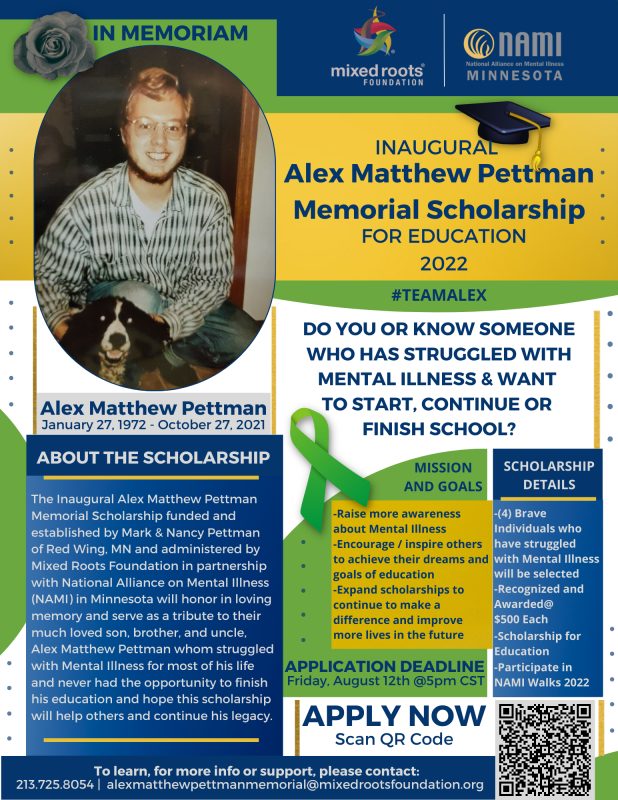 ARE YOU OR DO YOU KNOW SOMEONE WHO HAS STRUGGLED WITH MENTAL ILLNESS AND
                          WOULD LIKE TO START, CONTINUE OR COMPLETE YOUR / THEIR EDUCATION?
The Inaugural Alex Matthew Pettman Memorial Scholarship funded and established by Mark and Nancy Pettman of Red Wing, MN and administered by Mixed Roots Foundation in partnership with the National Alliance on Mental Illness (NAMI) in Minnesota will honor in loving memory and serve as a tribute to their much loved son, brother, and uncle, Alex Matthew Pettman.
It was on Wednesday, October 27, 2021 this past year that Alex unexpectedly died in Montgomery, Minnesota. Alex grew up in Owatonna, Minnesota and graduated with honors from the Owatonna High School. Those who knew Alex have described him as quiet, gentle, intelligent, and stoic.  He was also so well read; it was even joked that Alex was the family encyclopedia.  If they wanted a fact, they would just ask Alex.  His favorite pastime was playing games of strategy and he was hard to beat.  He will be remembered for his dry sense of humor.
In his young adulthood, mental illness became a daily struggle which Alex faced bravely. He attended college for two years before it became too difficult for him to continue.
To help continue Alex's legacy, through Mixed Roots Foundation in partnership with NAMI,  Four brave individuals will be selected, recognized and awarded with a $500 scholarship (each) who have struggled with mental illness like Alex but hopefully through the support of Alex's scholarship, they will be able to start, continue or finish their education in which Alex was never able to do.
The overall mission and goals of this special and unique scholarship is not only to continue to raise awareness about mental illness, but to hopefully encourage / inspire others to achieve their dreams and goals of education. It is the hope that the initial number and amount of scholarships as well as the number of individuals will increase and expand for next year, so that this very well needed additional support can make a difference and improve more lives in the future.
DEADLINE: FRIDAY, AUGUST 12, 2022
@5:00 P.M. CST
TO LEARN MORE AND APPLY, PLEASE CLICK HERE
Alex Matthew Pettman
(January 27, 1972 – October 27, 2021)